I'll make a confession. I love science fiction. I always have. Last night I was watching Sci Fi and saw a movie called Outlander starring Jim Caviezel, Sophia Myles and Ron Perlman. To give you a super brief plot summary, Jim Caviezel (Kainen) plays a man from a far off world whose space ship crash lands in the middle of a Viking Kingdom. Kainen's ship had two nasty 'passengers' in these nasty beast aliens called Moorwen. The Moorwen can kill humans with tremendous ease and Kainen worked with the local Vikings to try to kill the beasts. It didn't work out so well. The Vikings' iron weapons were no match for the tough bodies of the Moorwen and until Kainen salvaged some metal from his crashed space ship to be forged into new weapons all he his fellow Vikings could do was frustrate themselves and die. As I thought about the Wild game this late afternoon against the San Jose Sharks, it dawned on me that this was a similar challenge. The San Jose Sharks are just like the beast, powerful offensively with a strong defense. Are the Wild going to show they are playing with weaker iron weapons or will they demonstrate an ability to strike using something stronger than their normal pop-gun attack?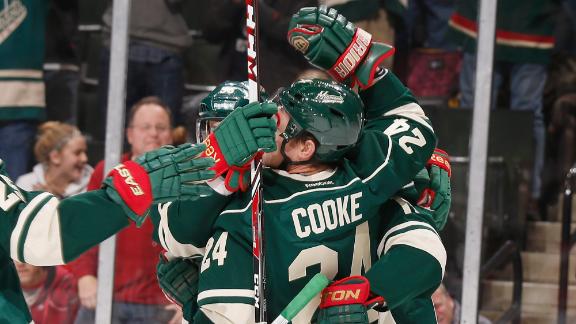 Will the Wild team that slayed another 'beast' in Chicago on Thursday show up today or will it be the one that was embarassed by Columbus on Friday night? Minnesota has had a little time to re-focus, but so has San Jose. I expect the game to end a lot like the movie; where it comes down to the bitter end where both the hero and the beast were nearly killed. So which team will slay the other?
Click on "Continue Reading" for the rest of the article...
no comments