Backstrom and timely scoring help Wild pull off huge 5-3 win over Chicago
The old sports saying goes, "If you want to be the best, you have to beat the best." This will be the Wild's challenge in its next two games against the defending Stanley Cup Champion Chicago Blackhawks, the team that knocked them out of the 1st round of the playoffs. The Blackhawks are again playing pretty good hockey right now even if statistically they may not be at the top of all the important cateogories as they seemed to be a season ago. Chicago perhaps is feeling a little pressure from Central division upstart Colorado and their red-hot start to the season that has them sitting in 1st place while Chicago sits in 2nd. The Wild are doing what they can to scratch and claw their way to the top, but Chicago is in its way. In many ways this two-game home at home series will likely be a tone setter for Wild fans who have had high hopes on the 2013-14 edition of the team. If the team gets crushed, they may have to re-adjust their expectations. Holding their own or even (gasp) defeating the Blackhawks may cause the league to take more notice of the Wild. The Blackhawks still have a plethora of weapons and oodles of big-game experience to draw from. The Wild are a team still carving out an identity for itself but at times this season has played very well. They'll need perhaps their best performance of the season if they expect to walk away with 2 points this evening. Tonight marks the first time the Wild faces Chicago as a division foe and many are hoping it creates the same sort of intensity as it had back when the Blackhawks were the arch-rival of the Minnesota North Stars. Blackhawks fans may not be burning "Dino, the Dinosaur" this time around but I would fully expect some chippiness out there. Can the Wild dig deep and earn a victory in the Windy City?
Click on "Continue Reading" for the rest of the article...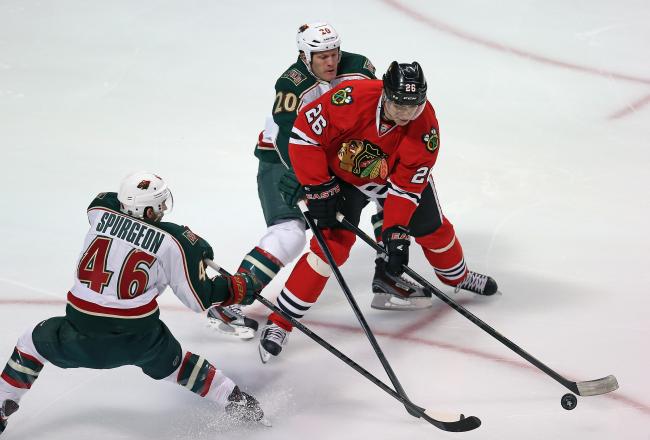 1st Period Thoughts: Minnesota started off a bit flat, as Niklas Backstrom had to bail out the team early with a save on a shot by Patrick Sharp. An early penalty kill effort actually helped ignite the Wild's legs and sort of take over the game. An early hooking penalty on Mikael Granlund, gave Chicago the first man advantage of the game. Minnesota's penalty killers did an outstanding job at moving their feet, denying the Blackhawks on time and space the Wild kept Chicago from registering a single shot on goal. The big kill gave the Wild some momentum and suddenly the team was flying all over the ice. Minnesota would earn a power play of their own as Marian Hossa was given an interference penalty and the Wild would strike on the man advantage. Just 5 seconds into the power play swept up the puck and he'd fire a wrist shot that sort of got caught in the traffic in front of Corey Crawford and then Zach Parise turned and directed it on goal that found the back of the net to give the Wild a 1-0 lead. Chicago seemed a bit stunned by the Wild's quick strike, and they'd try to answer back but Patrick Sharp was stonewalled by an amazing glove save by Backstrom. Minnesota scrambled a bit, but after Backstrom's big stop the Wild closed down the offensive zone very effectively and then counter attacked. The Wild's puck possession style would go to work at establishing offensive pressure and Minnesota began to funnel the puck on goal. I thought Wild had a great 1st period where they did not allow Chicago to create much in the way of momentum to get the sellout crowd going.
2nd Period Thoughts: The 2nd period was a complete roller coaster of emotions and momentum. The Wild would strike early in the 2nd period as some hustle by Matt Cooke turned into a pass out to the point that Marco Scandella stepped into on a low lying slap shot that was deflected perfeclty by a roving Kyle Brodziak that beat Crawford to make it 2-0 Wild. The goal seemed to infuriate the Blackhawks and they would tilt the ice in the Wild zone. Minnesota was scrambling all over its end and Niklas Backstrom was doing his best Denis Lemieux impression as he moved from post to post while Wild defenseman tried to drop in front of him to deny passes and shots on goal. The Blackhawks had numerous prime chances but Wild goal looked as though it was protected by a force field as pucks just stayed out of the net. A great example was a prime opportunity for Patrick Sharp that was just paddled away by a diving Backstrom. Chicago's persistance finally appeared to pay off as a shot was deflected up into the air by Clayton Stoner where it was knocked down by he stick of Andrew Shaw as Stoner fell back into the crease where the puck hit the post and then rested near the goal line before the bodies crashed the blue paint. The official waited patiently as the puck emerged from underneath the Wild defenseman and they called it a 'good goal on the ice'. The play would be reviewed and after a lengthy viewing it was ulitimately determined not to be a goal because Shaw clearly played the puck with a high stick that was above the cross bar and since Clayton Stoner did not play the puck it could not cross the line and be a good goal. So much to the ire of the home crowd it was ruled a 'no goal' and Minnesota caught a bit of a break although the call that was made was correct. You could sense Chicago was a bit irritated at this call, so they renewed their assault on the Wild end with that much more vigor as they kept swarming in search of a goal. They would get that just a few minutes after the the 'no goal' call as Bryan Bickell moved through the slot where Niklas Backstrom briefly left the right post giving Bickell a chance to find the twine, 2-1. Minnesota tried to counter punch again and they would score a crucial late-period goal as Ryan Suter made a pretty diagonal pass to Mikael Granlund who dished it into the slot where Jason Pominville unleashed a laser of a shot by Crawford to extend the Wild's lead back to two, 3-1. A frustrated Chicago team would then take two foolish penalties late in the 2nd period. The first on a tripping call by Marian Hossa as he got his stick into the skates of Dany Heatley. Then just moments into the Wild power play, Marcus Kruger got into it with Mathew Dumba after a high stick whistle where he gave the youngster a fashwash at center ice and giving Minnesota a long 5-on-3 power play. The Wild would inexplicably put the slow and plodding Dany Heatley on the power play. Minnesota's 5-on-3 strategy was maddeningly predictable as Suter and Pominville worked the points and all the Wild could do was try to blast slap shots through but missed wide when the shots were not blocked outright. The Wild had to feel fortunate that they were leading by two after a period where they spent a lot of time in their own end of the ice. Sometimes its better to be lucky than good.
3rd Period Thoughts: The Wild still had some power play time to start the 3rd period, but Minnesota was unable to capitalize on its chances. The Blackhawks would go back on the attack and Minnesota would play a little rope a dope around Niklas Backstrom who came up with clutch save after clutch save. One Chicago player who probably felt cursed tonight was Patrick Sharp, who has had a slow start to the season was denied on multiple prime chances by brilliant stops by the Wild goalie. The Wild seemed to enjoy flirting with disaster as they continued to take penalties that would give a very hungry Blackhawks teams opportunities on the man advantage. This time it was Zenon Konopka earning 2 minutes for tripping up Andrew Shaw. However on the penalty kill, the Wild's penalty killers were tremendous by making savvy plays to knock passes down and clearing the zone consistently. Soon after killing off the penalty a poor decision by former Wild 1st rounder Nick Leddy to attempt a diagonal pass from deep in his zone was intercepted by Mikael Granlund who made a small pass to Jason Pominville who lifted a puck up and over Crawford to make it 4-1. The goal stymied any momentum the Blackhawks had going for them. Chicago would try to renew their assault and they'd cut the Wild lead to two, when Marco Scandella would get a minor for slashing. On the power play Chicago was finally able to free up Patrick Kane for a quick shot about 20 feet in front of the blue paint and he beat Backstrom to make it 4-2. Blackhawks back in the game right? The Wild would try to withstand another Chicago siege, but Backstrom again delivered a huge save as he stonewalled Sharp once again on a point-blank range chance. Minnesota would deliver the true dagger just past the 5-minute mark as Michael Roszival was unable to clear the zone as Mikko Koivu pushed the puck deep as he gathered it up near the goal line and he moved in and passed it towards the crease where Justin Fontaine fired it by Crawford to make it 5-2. This goal sent the sellout crowd for the exits and while Chicago's Marcus Kruger would bury a late goal to make it 5-3 as Minnesota rolled to a huge road victory.
Niklas Backstrom was tremendous (as well as lucky) as he stopped 33 shots in the victory. Backstrom certainly did have some fortunate blocks and bounces of the puck, but he also came up with some truly outstanding saves to frustrate Chicago and preserve Minnesota's lead. Defensively, I felt Ryan Suter and Jared Spurgeon both had outstanding games. Both defenseman did a fantastic job at blocking shots and denying passes and they made a number of great defensive plays to strip Chicago forwards of the puck and carry the puck quickly out of danger. Minnesota's penalty kill was a source of strength tonight even if the Wild did give up a power play goal. Sometimes its not about killing every penalty as it is killing penalties at the right time to deprive Chicago of momentum and making its big and normally noisy crowd a factor.
Offensively the Wild had a game where they were able to answer back consistently to keep Chicago at a distance. Everytime Chicago would find the back of the net the Wild were capitalizing on its opportunities made from the Blackhawks' mistakes. Just as I said before about the penalty kill, it was the timing of Minnesota's goals that sapped Chicago of momentum and further served to demoralize and frustrate the Blackhawks who were spending lots of time in the Wild zone but coming up empty. Jason Pominville was probably the happiest Wild player on the ice as he seemed to get his killer touch back. Helping him get that touch were some sublime setups by Mikael Granlund who had a terrific game. The Wild's 2nd line helped carry the mail tonight and Minnesota also got a goal from its 3rd line too giving the team the secondary scoring which has been missing in action in too many games this season.
I started this article with a sports cliche so I'll end with another. Sometimes its better to be lucky than good. Yet in sports, doing the right things sometimes create the luck that seems to take place. Minnesota did have its share of fortunate happenings in its own zone, but to its credit it took advantage of its opportunities and earned a huge 2 points in Chicago which is no small feat. In fact, that was the first time Chicago had lost in regulation in 15 games. Minnesota now has to re-focus and try to do it all over again when Chicago comes to St. Paul on Monday. The Wild should expect Chicago to be determined and its the Wild have a chance to prove Saturday's win wasn't a fluke.
Wild Notes:
~ Wild roster tonight was as follows: Mikko Koivu, Zach Parise, Justin Fontane, Dany Heatley, Mikael Granlund, Nino Niederreiter, Kyle Brodziak, Matt Cooke, Jason Pominville, Zenon Konopka, Torrey Mitchell, Stephane Veilleux, Ryan Suter, Jared Spurgeon, Marco Scandella, Nate Prosser, Mathew Dumba and Clayton Stoner. Johan Gustafsson backed up Niklas Backstrom. Jonas Brodin (broken cheekbone), Charlie Coyle (knee), Mike Rupp (knee) and Keith Ballard (concussion) were out with injuries.
~ The 3 Stars of the Game by Tim Sassone were: 1st Star Jason Pominville, 2nd Star Niklas Backstrom, 3rd Star Ryan Suter
~ Attendance was 21,521 at United Center.
Minnesota Golden Gophers Report:
All they do is win games, which is the best way to describe the machine that is the Golden Gopher women's hockey team after a hard-fought series sweep over Bemidji State this weekend. In Friday's tilt, Megan Lorence scored twice while Rachel Ramsey and Kate Schipper added a goal apiece to give Minnesota a 4-0 victory. Saturday's victory was a bit of a nailbiter as they rallied late in the 3rd period to earn a 4-3 victory on the strength of two goals from Hannah Brandt. Amanda Leveille had 18 saves in the win. The #1 ranked Golden Gopher women are a perfect 8-0 this season and this win makes for their 57th consecutive victory.
Wild Prospect Report:
D - Carson Soucy (Minnesota-Duluth, NCHC) - The freshman found his way onto the scoreboard on Friday night in the Bulldogs' 3-2 loss to Notre Dame in a non-conference game. Soucy chipped in with an assist, his 2nd of the 2013-14 season. Currently, Soucy is playing left defense on the Bulldogs' 2nd pairing along with Andy Welinski.
LW - Mario Lucia (Notre Dame, H-East) - The lanky left winger lit the lamp again in the Fighting Irish's 3-2 victory over UMD on Friday night. Lucia scored his 2nd goal of the season to go along with 4 shots on goal and finishing the night with an 'even' rating. Currently, the Wayzata-native is playing on Notre Dame's 2nd line centered by T.J. Tynan and right winger Austin Wuthrich.
RW - Kurtis Gabriel (Owen Sound, OHL) - To say Kurtis Gabriel was involved on Friday is a huge understatement as the budding power forward had a monster of a game. Gabriel helped the Attack earn a 6-4 win over the Plymouth Whalers, chipping in a goal and 2 assists and earning the Gordie Howe hat trick with not one, but two fights to his credit giving him 14 penalty minutes for the evening. The 6'4", 218lbs winger has 4 goals, 12 points and 18 PIM's in 10 games this season.
G - Alexandre Belanger (Rouyn-Noranda, QMJHL) - The athletic goaltender is really starting to find his groove for the Huskies this season as he made 35 saves on Friday night in Rouyn-Noranda's 4-2 win over a potent Val 'd Or squad. Belanger has a 6-2 record, and 3.63GAA and an. 869%SP all the while facing an average of around 27 shots per game.