'Summer of the Shark' continues for the Wild as they trade James Sheppard to San Jose for 3rd round pick
Shark Week, its been one of cable televisions longest and I'd say most successful annual 'theme' programming of any network. It has been a Discovery Channel staple since 1987, where the station puts on program after program that talks about the life and activities of the ocean's most notorious predator. Some shows talk focus on Shark attacks and attempt to give possible reasons why they occasionally attack humans; while others just seem to enjoy showcasing the ferocity and destructiveness of their bites. The images can be pretty graphic, even if its a significant gash to a fur seal or the sight of a surfer's leg that has been eviscerated the viewer clearly gets the message that even just one bite from a Great White or other members of the species can be pretty devastating. Watching a 16-foot Great White leap out of the water as it strikes a fake seal silhouette attests to the creatures impressive speed and power as well as the aggressiveness in its strikes. Either way, it has obviously made for great television which is why they keep putting it on year after year even if most people know all of this information already.
Perhaps one of the most famous and appropriate improvised lines in movie history was on the legendary killer Shark flick
Jaws
, when actor
Roy Scheider
exclaims after first seeing the behemoth killing machine while chumming the water, "We're going to need a bigger boat." Since its summer, and many Minnesotans the season means enjoying time on the lake. With the exception of kids sometimes pretending to be 'sharks' when they're swimming with their friends we don't fear large aquatic predators attacking us. For the Minnesota Wild, it hasn't simply enjoyed 'Shark Week' its truly been the 'Summer of the Shark' as the team has made 3 separate deals with the San Jose Sharks. The first of which occurred at the NHL Entry Draft in late June when the team dealt fan favorite
Brent Burns
and a 2nd round pick (2012) to the Sharks for
Devin Setoguchi
, promising power forward prospect
Charlie Coyle
and their 1st round pick (28th Overall) which became
Zack Phillips
. That by itself was a huge splash for the normally conservative Wild, but almost a week later Minnesota pulled off another deal with San Jose by swapping
Martin Havlat
for
Dany Heatley
. It was this move more than anything else that really had the Minnesota sports fans (not just Wild fans) buzzing throughout a good portion of July and that in itself was pretty impressive. However, Wild General Manager
Chuck Fletcher
wasn't done making deals with the Sharks as he dealt disappointing center
James Sheppard
to San Jose for a 3rd round pick in 2013. Three solid transactions with one club over the course of a single summer is rather rare. So was dealing Sheppard a smart move?
Click on "Read More" for the rest of the article...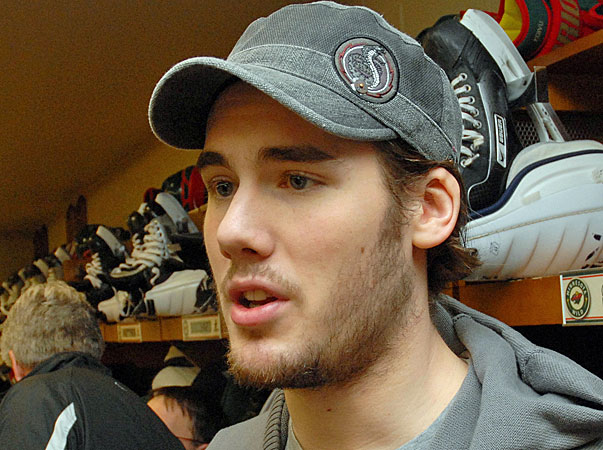 It has been a long, disappointing tenure for James Sheppard since the team drafted him 9th Overall in 2006. Sheppard initially had a strong season with his junior club of Cape Breton after being drafted scoring 33 goals and 96 points in 56 games and it was this performance that made Wild fans initially pretty excited about his potential. The next season, Sheppard made the big club but he looked like a deer in headlights as he got just 4th line minutes scoring 4 goals and 19 points in 78 games. It was hoped he'd gain confidence and show some of that scoring ability he had in junior but his did not show all that much improvement in what was a rather forgettable 2008-09 campaign. Management seemed to still think he was on the cusp of a breakout season as then Wild GM
Doug Risebrough
passed up on an opportunity to deal Sheppard and other components to the Florida Panthers for
Olli Jokinen
and it was said that the Panthers' insistence on Sheppard that was the deal breaker. The next season Sheppard seemed to be at odds with the Wild coaching staff who chided him what they saw as a lack of effort even being called out publicly by then Head Coach
Jacques Lemaire
. When Lemaire finally left the team, it was Sheppard who chimed in with this memorable quote to the
Minneapolis Star Tribune
's
Michael Russo
, "It wasn't that we didn't see eye to eye, per se. I have been playing hockey since I was 3, so it's not like I am new to the game. But I am new to the way Jacques did things," said Sheppard. "It wasn't that we didn't like each other. It was just that sometimes he didn't understand, or I didn't understand where he was coming from." It was comment about not really needing advice from an NHL Hall of Famer and an 11-time Stanley Cup winner since he had been playing since he was 3 years old that drew the ire of many Wild fans, especially of those who were fond of Jacques Lemaire. The comment came off as bitter and pathetic for a player who had done so little and fans seemed to turn against the youngster who appeared to have lacked maturity and perspective. It didn't get any better for Sheppard when
Todd Richards
took over and the Lower Sackville, Nova Scotia-native struggled to stay in the Wild lineup as he was a regular scratch. Sheppard had a paltry 2 goals, 6 points and 38 penalty minutes in 64 games. It looked as though Sheppard's NHL career was in jeopardy, but the Wild were not willign to give up on him just yet, signing him to a 1-year contract. So what would happen next?
Really, What
Would
James Sheppard Do?
To answer the question of the bracelet, he would do something very stupid. The following summer and just prior to training camp for the 2010-11 season, Sheppard would fracture his kneecap in an ATV accident in early September. The injury and subsequent surgery made him unable to play in the 2010-11 season, but because he had done this in an ATV accident a clause in his contract allowed the Wild to suspend Sheppard without pay. Sheppard struggled to recover from his surgery and had a bit of a setback in February. So without having played even a single pre-season game with the Wild last season and Sheppard again set to be a restricted free agent some fans had hoped this would be the opportunity part ways with the disappointing center. However, the team decided to tender Sheppard a qualifying offer where they hoped to sign him to a two-way contract. In July as the team was settling its contracts with its other RFA's, Sheppard balked at those terms. If he did not sign, the two parties could've gone to arbitration but the team would have had the option to step away from any settlement thus making him an unrestricted free agent. Thus why it was a big surprise to hear that the team was able to trade Sheppard.
Does Chuck Fletcher have dirt on Doug Wilson?
To answer the question I asked at the end of my introduction, I would say the Wild came out a big winner yet again. The Wild got rid of a disgruntled player who it was very likely going to let just walk away as a UFA for a fairly high return of a 3rd round pick when you consider the fact he in the last two years he has just 6 points to his credit. In fact, the whole deal makes you wonder if Wild GM Chuck Fletcher has dirt on the Sharks General Manager
Doug Wilson
? Is it dirt on Doug Wilson's daughter, Miss Massachusetts (2010),
Lacey
? Wilson, in my opinion has made 3 trades that have given the Wild the better return. I think many Wild fans would've been happy with a 6th round pick for Sheppard but a 3rd round pick seems like a steal. I can't imagine that Sharks fans are ecstatic over this trade; and I am sure they'll attempt to spin the fact that Sheppard was a former 1st rounder as it being such a savvy move. I know Sheppard is just 23 years old, but a player who missed an entire season and had a horrendous one prior to that doesn't seem like a prime candidate to just suddenly emerge as stud NHL'er. Sheppard's trade also allows the Wild to more or less officially stamp yet another 'Bust' to its credit joining fellow 1st round selections
A.J. Thelen
and
Benoit Pouliot
. I understand that the Sharks have been a perennial disappointment in the post-season and Wilson is trying to improve his teams' chances, but some of these moves are making him look a bit desperate. I mean c'mon you traded a 3rd round pick for James Sheppard? Ok Doug, I have some wonderful land in Florida I'd like to sell you if you're interested!?!?